When a buddy of mine shared that Mike Meyer would be in Phoenix teaching a sign painting workshop, I couldn't sign up fast enough. I had seen him in the Sign Painters documentary and read about him in the book the documentary had put out. After signing up it took about six long months of waiting until November 16-19, 2017.
Thursday: Sign Painting Block and Thick and Thins
I'm not sure I slept a wink last night knowing that I would be getting up in the morning and heading to meet Mike who travels the world teaching people a craft I've been obsessed with my whole life. When I got to the workshop, it smelled exactly like I remember my great-grandfather's shop, Cobler Sign Co., smelling like.
People drove in from California just to learn from Mike for a few days. We were like kids on Christmas morning as we tried to soak in and video every word he said. First, he taught us to block letters as he effortlessly marked up the paper with a pencil and right angle. All of us groaned as he made the last mark and we realized how incredibly talented he was and that we were all going to embarrass ourselves as we attempted to recreate what he just did.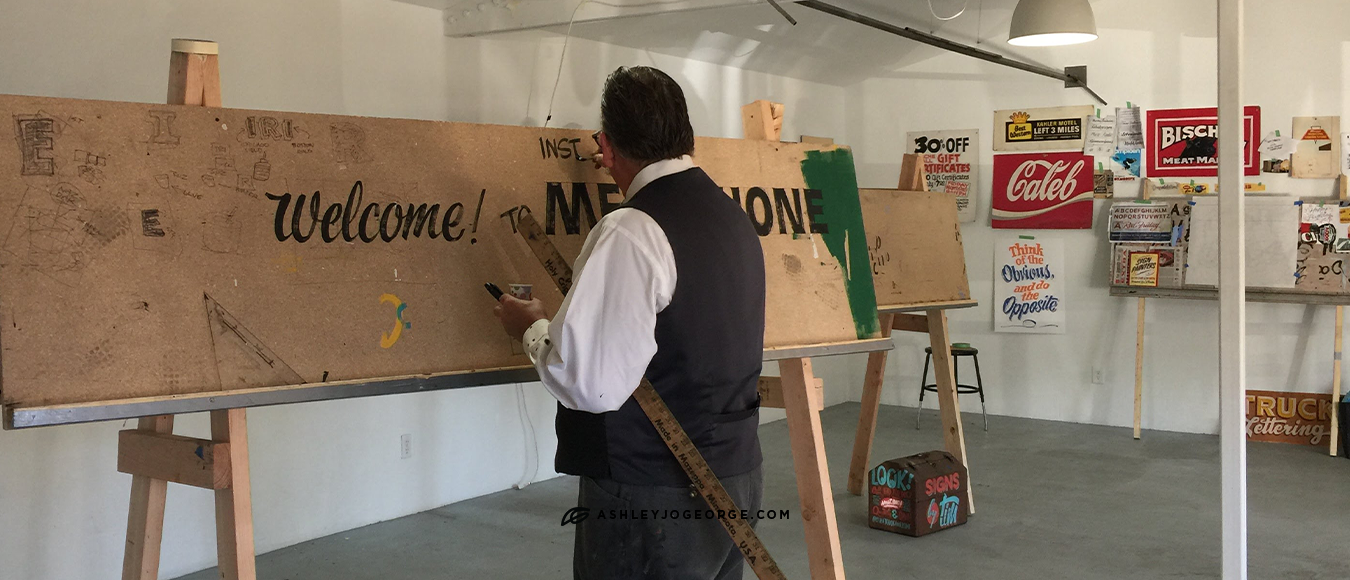 Following lunch, we transitioned to our thick and thins. I really tried to focus on executing on all different types of lines, vertical, horizontal, diagonal and curved.

Friday: Sign Painting Casual and Script
Friday morning I couldn't wait to get into the shop, everyone was just as focused today as they were yesterday. Today the focus was on casual and script letters. Casual letters were a bit of a struggle for me. I couldn't quite get the 'S' or a couple of the other curved letters. I also struggled to learn how to get the brush to start without having a weird wobbly line.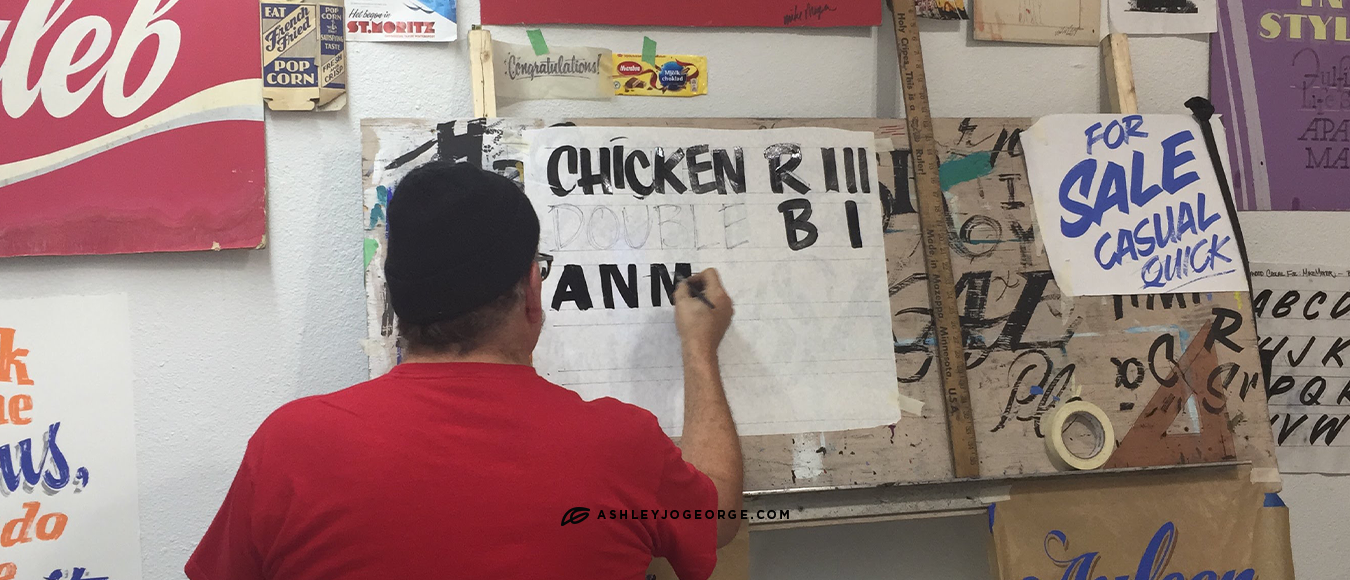 With sign painting, the long squirrel hairs of the brush should lay completely flat on the medium. Meaning you are almost touching the ferrule to the media and pulling the paint along. Initially, I didn't feel like I had any control of the brush. I also was really clumsy and kept finding myself spilling paint. I couldn't get the hang of holding the cup and mentally knowing I was holding on to it without rolling my wrist and spilling the paint. I got better as the day progressed, but I was definitely feeling like a moron.
Saturday: Sign Painting Shadows
This was my second favorite day. Maybe it was because I was a little less awkward duckling and was able to come into my own a little bit with the blending on the bevels. It was far from perfect, but I definitely felt like I could get the hang of it.
The Ottumwa paper that Mike painted yesterday was given to me to shadow, which was awesome because I could just focus on the shadowing and mixing the appropriate coloring than trying to lay down an initial word. After I shadowed it, I, of course, wanted to take it to the next level and convinced Mike to help show me how to add the second shadow in the opposite direction that makes the letters look like they are protruding off the paper.

Sunday: Sign Painting Bevels
This was my most favorite day! Today we learned how to bevel and I was so excited to bring even more dimension to the lettering than we did before. I wish I could sign paint everything in this style. Okay, not everything, but you know what I mean.
I painted the word HO, not necessarily on purpose but after I did it I definitely got a Christmas vibe and I'm glad I did, I loved doing the blending. When I got to the highlighted line, I chose a brush that was way too thick. Lesson learned but I still loved my first attempt, because you have to start somewhere and this is my start.

Wrap Up
Four days of sign painting with Mike Meyer has only ignited my passion for sign painting even more. I am grateful my grandfathers chose this trade for themselves, and while I'm sad I didn't get to learn from them, there are amazing people like Mike out there willing to share his knowledge with those of us who are urning to learn a trade that isn't around much anymore.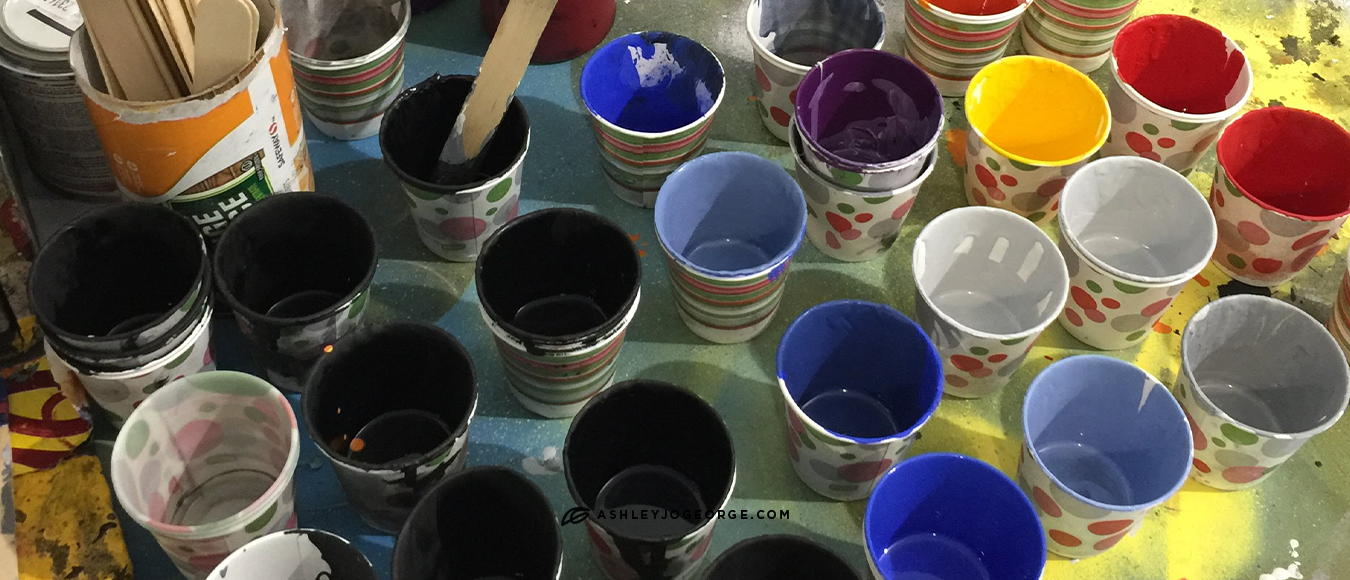 Check out Mike Meyer and his amazing work for yourself. If you ever have the opportunity to take a workshop with him, I highly recommend it.
Read about the two other workshops I took with Anne McDonald and Noel B. Weber.